Policy
Lab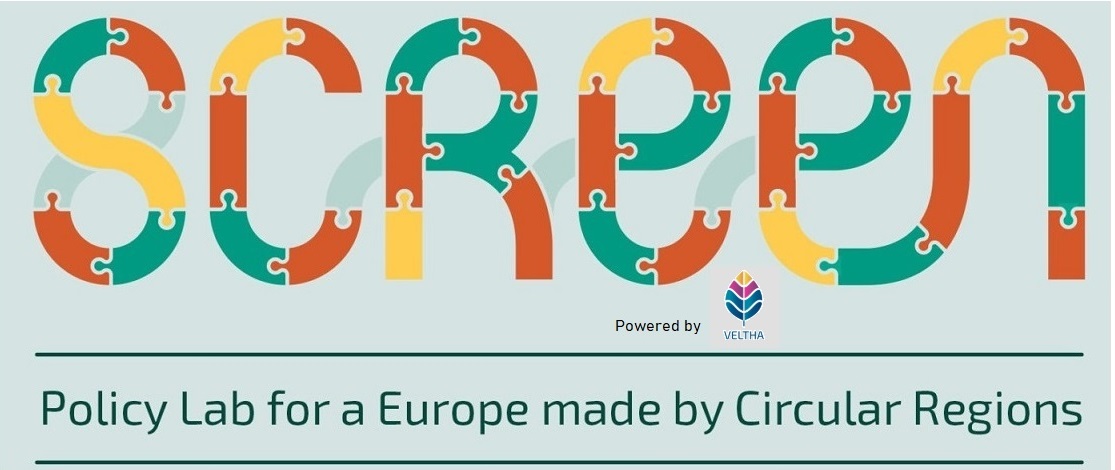 New version 2.0: "Policy Lab for a Europe made by Circular Regions"
: it is an evolution of the first one, based on a platform where European Regions working with Circular Economy projects can collaborate, explore possible scenarios and co-design solutions for better policies through workshops, webinar and other initiatives.
The Policy Lab 1.0 established within the SCREEN project
The SCREEN approach is based on the identification and implementation of operational synergies between investments in research and innovation under Horizon 2020, the Structural Funds and the European Investment Funds.
SCREEN has a specific task for the establishment and operation of a "Laboratory operations on Policies" (Policy Lab). Its aim is two-fold:
1) ensure that the analyses and proposals developed within the SCREEN project are discussed with EU and regional policy-makers as well as key stakeholders thereby ensuring their feasibility, relevance and effectiveness; and
2) ensure regular exchange of information among participants so that state of the art knowledge and existing initiatives are taken into account during the implementation of the project.
The Policy Lab will be coordinated by Lazio region (coordinator of the SCREEN project) and will consist of:


one representative of each participating Region (17)
members of the Advisory Board: 3 key associations in the area of ESIF, H2020 and circular economy (ACR+, EURADA, ERRIN)
representative(s) of DG REGIO, DG RTD, DG ENV, DG GROW and European Institute of Technology
representative(s) of EASME as observer


-------------------------------------------------------------------------------------------------------

Minutes of the 4th Policy Lab (30/05/2018)

Agenda of the 4th Policy Lab

-------------------------------------------------------------------------------------------------------

Minutes of the 3rd Policy Lab (22/02/2018) : due to te time constraints, the 3rd Policy Lab has been reduced to the Presentation of the development of regional policies for Circular Economy given by Tjeerd Hazenberg (Fryslan) and the presentation of the additional assessment criteria for circular economy projects and the availability of regional statistics for projects well ranked but not financed

Agenda of the 3rd Policy Lab, click to download it

Briefing document of the 3rd Policy Lab , click to download it. Link to the Agenda in the right column of this page

-------------------------------------------------------------------------------------------------------

Minutes of the 2nd Policy Lab (11/10/2017) , click to download it

Agenda of the 2nd Policy Lab, together with an integration of the briefing document, click to download it

Briefing document of the 2nd Policy Lab , click to download it

-------------------------------------------------------------------------------------------------------


Minutes of the 1st Policy Lab (04/05/2017) , click to download it

Briefing document of the 1st Policy Lab, click to download it

REFERENCE DOCUMENT explaining how the Policy Lab works, click to download it